Best Notebooks from the Machine Learning Bootcamp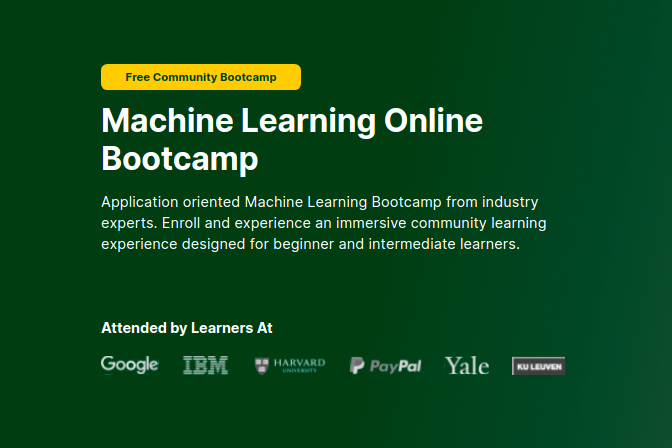 Hello DPhiers! The Machine Learning Bootcamp saw a lot of enthusiastic learners participate and complete the bootcamp both in the 'Machine Learning Bootcamp – Beginner' track and the 'Machine Learning Bootcamp – Advanced' track.
Apart from making it to the top in the leaderboard, what also helps you practice and get better is sharing knowledge and learning from others.
During the notebooks review process, our awesome coaches/community contributors have put an additional effort to shortlist some of the best notebooks so that community can learn and take inspiration from them. Thanks to Manish, Gunnika, Jay Ram, Asha Pareek, Tanmay Laud, for putting this together. We hope the community will make the most of it. Further, we have also added all the resources of ML Bootcamp for everyone's reference below. Feel free to share it with your peers/colleagues who may want to get started with Machine Learning.
Now, here comes the best notebooks!
Model Deployment Notebooks
#The notebooks are listed in no specific order
Explainable A.I Notebooks
Problem Statement: https://dphi.tech/practice/challenge/51#notebooks
#The notebooks are listed in no specific order
Repost from Best Notebooks from the Machine Learning Bootcamp